A speculation that the Taxi driver who drove Nigeria's first Coronavirus sufferer to Lafarge Africa Plc has escaped and is demanding a 100 million before surrendering himself has been refuted.
Rumours that Adewale Isaac Olorogun, the purported name of the taxi driver had demanded a 100m from the Ogun State Commissioner Health or he would make sure that virus goes viral started late yesterday.
However, reacting to the speculation,  a source in the Ogun State government denied the rumour, adding  that it was mere mischief.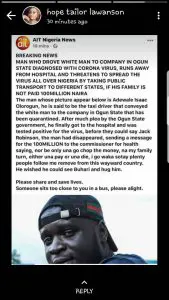 "The quarantine area is heavily secured.   How  he escape, it  is just silly talk, mischievous talks by people who don't know the implication of what is happening. But I can tell you that both the Italian, the taxi driver and the people they came in contact with both being monitored."
ALSO READ: 
Italian man with Coronavirus attempts to escape from Lagos isolation center over poor living conditions
Nigeria recorded its case of Coronavirus on Friday, February 28, after an Italian who came into the country without sign of virus suddenly fell ill and taken to an hospital in Ogun State before being relocated to Lagos .